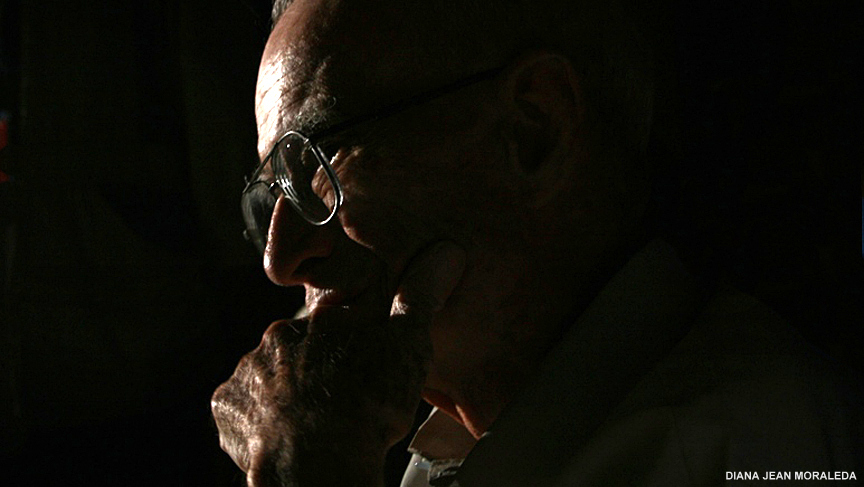 Homily from the Mass on the First Anniversary
of the Death of Fr. John J. Carroll, SJ
by Fr. Chester Yacub, SJ
16 July 2015
Walter Hogan Conference Hall
I do not know if you are aware of the movie The Fault in Our Stars, or if you have watched the movie, or better yet, if you have read the book written by John Green. (There is a new movie adaption of his earlier book Paper Towns). I would always feel sorry for those who would just think that The Fault in Our Stars is simply about the love story of two teenagers, both cancer victims. But who am I to judge? It is really for you to find out yourselves.
What I would like to share with you about the Fault in our Stars is a quote from the main character named Hazel Grace. In one of the funerals she attended – and I won't say whose – after giving a eulogy, she said – "Funerals, I had decided, are for the living." Funerals are for the living.
Well, this is not the funeral of our dear Fr Jack – colleague, mentor, father, friend… but this requiem mass, this mass in commemoration of our dearly departed, is for him in as much as for all of us here present. It is both for our beloved Fr Jack, and for us – those whom he left behind – those who are still living. And that is why we have gathered here today.
We have come here together today to remember Fr Jack. In fact, more than simply to remember – we have come here today to express how much we appreciate and how much we are thankful for the life of Fr Jack whom he generously shared with us – in different ways, in different depths, at different times and circumstances.
I remember writing my synthesis paper for my comprehensive exam in Theology. It was entitled "God of the Payatas Poor." It was my attempt to synthesize my four years of theological studies with my also four years pastoral ministry in Payatas A. Needless to say, I consulted Fr Jack in writing my synthesis paper. I have always thought that he was someone who loved God and the Payatas poor. I remember several discussions over meal times, and several exchanges of emails on how he liked this particular part of my paper, and of how that part can still be improved. For example, he asked me to reflect more on the role of the patroness of our Parish community in Payatas to the faith of the poor – our parish is called the Mother of Divine Providence.
This morning, I re-read all of his emails about my paper – and realized how generous Fr Jack was not just in mentoring me but in encouraging me – he expressed how thankful he was that I asked him to help me, that he read my paper twice and that he was moved and inspired by it – he congratulated me and even asked me for a final copy of my synthesis. I am very sure you have your own share of Fr Jack's mentoring and encouraging and inspiring moments. Today, we thank Fr Jack for all of them.
We have also come here together today so that as members of his family, of our communities, the JJCICSI, ISO, and the Society of Jesus, we can all pray for Fr Jack's repose. We pray that wherever he may be right now, he is at last, at peace – enjoying eternal rest granted upon him by the Lord.
This is what our Gospel passage today is about. Our Lord invites those who are tired and already heavily burdened in his life to come to him and rest in his presence. Hindi ba, sabi nga natin tungkol sa mga yumao nating mga kapatid, sa wakas, namahinga na siya, namayapa na. And this is want we pray for in this mass – not just for Fr Jack but for all those who left us behind – for the Lord the source our repose and everlasting peace, to grant our all of our dearly departed eternal rest.
We have come together today also to express our support especially to those whom Fr Jack left behind – all of us, his family and friends. We have come to say to each one of us – I am here for you – that in so much that I feel the loss of a dear father, I am also here to comfort you. You can count on me whenever we miss his presence and leadership and guidance.
We have come together today because this mass, as our quote claims, more than for the dead – is for the living – all of us, yes, even, Fr Jack. After all, our Christian faith teaches us to believe in the afterlife. Our faith invites us to trust that life does not end here on earth – but rather transformed into something more lasting.
This Church teaching on the eternal life – on heaven – we may not fully understand but we sure have a glimpse of – as we remember the many times we have been with Fr Jack all through these years – and considered that life was good being with this man – maybe, even heavenly, being with this man. I may not have known him as much as most of you do –but I am sure, each one of us can remember a happy, even heavenly memory, or two.
And this, my brothers and sisters is what we are invited to do today. To remember not the man who died and left us – but to remember the person himself, to remember Fr Jack. This is what makes Fr Jack alive until today. He forever lives in our memory.
So, maybe, just maybe – our quote from the Fault in Our Stars is correct – that gatherings like these – they are all for all of us, living!
Fr Jack, pray for us.