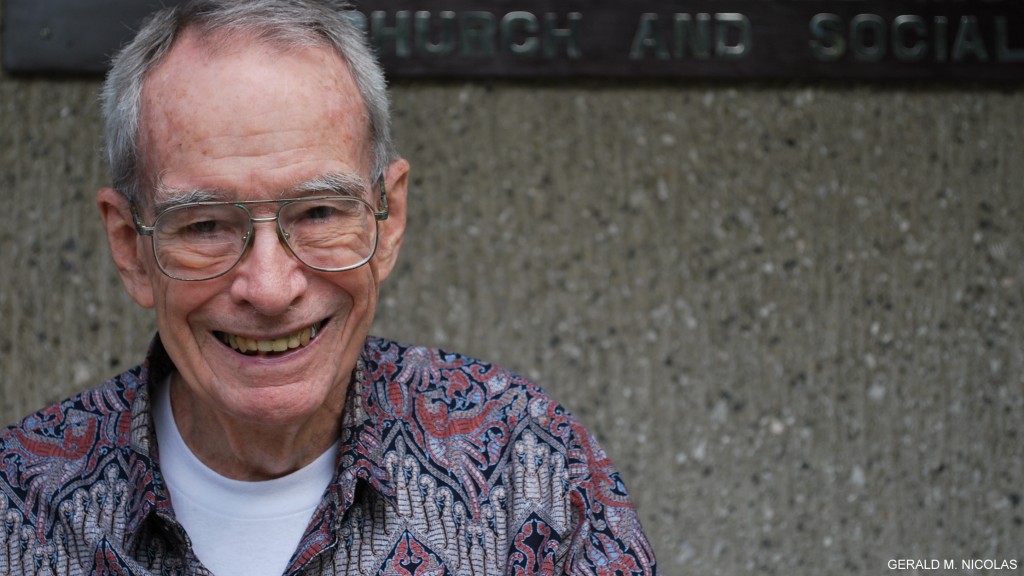 We remember our dearly departed relatives and friends especially in these days of November.
I believe I can speak in behalf of my colleagues at John J. Carroll Institute on Church and Social Issues (JJCICSI) that among those we remember is Fr. John "Jack" J. Carroll, SJ, who passed away at 90 last July. I can even admit that we think of him very often since he left us.
Many times, Ate Malou would tell me how she misses Father Jack every time she needs to prepare for a talk or presentation on natural family planning. A month after his death, his "surrogate" daughter Manay wrote in her Facebook account: "These keys once belonged to a great man and now are entrusted to me. Missing you, Lolo Jack… I hope you don't mind that I'm now occupying your room." Jing and Ellen presented papers at the annual conference of the Philippine Sociological Society last October as part of a panel honoring Father Jack's many contributions to the analysis of Philippine society as priest-sociologist. I particularly prayed to him for intercession for the success of a Southeast Asian dialogue forum on development serving the global common good, which the JJCICSI organized in October.
We can never have enough of Father Jack. Two weeks ago, the entire staff met to review and discuss his theories of change, which he articulated in his book "Engaging Society: The Sociologist in a War Zone." Apart from being a staff development activity, the session sought to reflect on our institute's theory of change as a research-for-advocacy NGO, and how the theory can eventually guide us in monitoring and evaluating our work, now of 30 years.
At the beginning of his book, Father Jack discusses two contrasting views of society which he learned during the years of his graduate studies, and which later became his frameworks as he taught courses on social change and social development. One view sees society as built on consensus or shared values, and the other regards power and coercion as the predominant realities in society.
The consensus theory puts forward that the members of society are united by a common set of values and understanding of what the world and society are all about; on this basis, they agree on the goals people should pursue, and establish the institutions in society for the realization of these values and achievement of key goals. Power is held in these institutions to promote and protect the key values of society. As Father Jack would put it, "In consensus theory, power is the servant of society and its values."
On the other hand, coercion theory sees society and the inequalities it has created as resulting from the power relationships among individuals and sectors that have developed over time. The values in society defend, if not preserve, the interests of the elite, and reinforce systems and structures of inequalities. In contrast to the consensus theory, the coercion theory considers "values as the servants of power."
Take, for instance, the issue of work and the incomes derived from working. Consensus theorists support the engagement of people in specialized jobs who logically earn sizable incomes as their competence and skills are employed for the good of society. On the other hand, coercion theorists will argue that the huge incomes by these highly skilled workers result from the scarce and unique talent they possess, and that these specialists would, in fact, limit the entry of others in their field so as to exclusively enjoy high earnings and amass the wealth for themselves.
Having lived for some 60 years in the Philippines where he witnessed various social and political changes and developments over the years, Father Jack concluded that Philippine society can be better understood in terms of coercion theory than consensus theory. "Power has much more to do with who gets what than do society's values or the common good…" he said.
Local communities, for reasons within and beyond their control, have been increasingly losing command over crucial aspects of their lives. Aggravated by dwindling or plain lack of resources such as land and capital, decision-making and overall control of their lives are often relegated to a few who have the resources from the local to national levels. Unfortunately, the systems and structures at these levels intended to serve the people all the way to the communities, among them electoral processes, education, health, and infrastructure systems, are working more for the service and benefit of those who wield power.
To reduce these inequalities in power and resources, Father Jack saw a viable strategy in what he called "the Interest Group Model." In this model, various local organizations at the lowest strata of society are linked with each other, and connected with broader organizations at the provincial and national levels. It is no different from the associations, cooperatives and federations that exist in our country today—e.g., irrigators' associations, farmers' cooperatives, labor unions and federations. The essential thing is that they organize and come together to advance their common concerns and interests via policies and programs, and not personal connections or favors.
How does the JJCICSI contribute to social transformation and help uplift the lives of the poor and the marginalized sectors? How effective is our research and advocacy work with the farmers and fishers organizations, urban poor groups, child networks, and Church personnel? We may well be missing Father Jack's physical presence and guidance, but his many writings, works and legacy live on to steer us in our continuing work for social change.
First published in the Philippine Daily Inquirer.
Read more: http://opinion.inquirer.net/80037/fr-jack-carroll-and-his-theories-of-change#ixzz3J6InB4V6