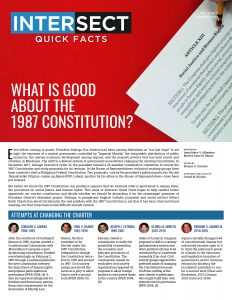 Even before coming to power, President Rodrigo Roa Duterte had been casting federalism as "our last hope" to set right the excesses of a central government controlled by "Imperial Manila," the inequitable distribution of public resources, the uneven economic development among regions, and the massive poverty that has bred unrest and rebellion in Mindanao.
The shift to a federal system of government necessitates changing the existing Constitution. In December 2017, through Executive Order 10, the president formed a 25-member consultative committee to review the 1987 Constitution and study proposals for its revision. In the House of Representatives, technical working groups have been created to draft a Philippine Federal Constitution. Two proposals—one by the president's political party, the Partido Demokratiko Pilipino–Lakas ng Bayan (PDP-Laban), another by his allies in the House of Representatives—have been put forward.
But before we throw the 1987 Constitution out, prudence requires that we examine what is good about it, among them, the provisions on social justice and human rights. This issue of Intersect Quick Facts hopes to help readers better appreciate our current constitution and decide whether we should be discarding it for the extravagant promises of President Duterte's federalist project. Perhaps, to paraphrase English Catholic journalist and social activist Gilbert Keith Chesterton about Christianity, the real problem with the 1987 Constitution is not that it has been tried and found wanting, but that it has been found difficult and left untried.
Click the image to download.