Catholic Electoral Partisanship in the Philippines:
A Threat to Religious Pluralism
By Eleanor R. Dionisio
in Religion, Public Policy and Social Transformation in Southeast Asia: Managing Religious Diversity Vol. 1 (Globethics.net Focus Series Book 33), ed. Dicky Sofjan, 225-255. Geneva: Globethics.net, 2016.
This paper examines the validity of that perception vis-à-vis one form of Catholic partisanship in the 2013 elections: the endorsement and blacklisting of senatorial candidates based on Catholic ethical principles. It distinguishes two levels of partisan electoral engagement of the Church: (1) that of the hierarchical Church, consisting of bishops, clergy, and non-ordained religious; and (2) that of the unconsecrated laity. It uses empirical evidence to show that this form of Catholic partisanship does not, at present, threaten religious pluralism, and speculates on the possibility that such partisanship may have benefits for electoral democracy and for religious pluralism.
---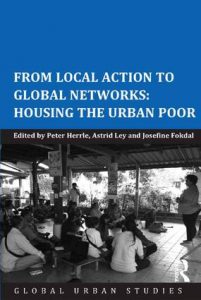 Transforming the Housing Process in the Philippines:
The Role of Local-Global Networks by the Urban Poor

By Anna Marie A. Karaos and Emma Porio
in From Local Action to Global Networks: Housing the Urban Poor, ed. Peter Herrle, Astrid Ley, and Josefine Fokdal, 107-121. New York: Routledge, 2016.
This chapter investigates the transformation of the housing process in the Philippines as a result of urban poor networking with civil society organizations at the local and transnational levels and with international development agencies and donor organizations. The first part describes the changes that have taken place in the way housing and land security have been provided to informal settler families in the past. It argues that the collaboration strategies among civil society and urban poor groups have contributed to these transformations. It presents the experience of two allied networks that have been working together in mobilizing communities and building local multi-stakeholder partnerships to support community upgrading and housing. This pattern of networking and engagement with government has resulted in new ways of planning and providing housing to the poor. The chapter ends with a consideration of the relevance of networking and what can be considered as the major achievements and the role of local-global actors in shaping local housing processes.
---
Rebuilding After Ketsana: Disaster Risk Reduction and Resilience Building in an Urban Context

By Anna Marie A. Karaos
in Resilient Urban Communities: Stories from the Ketsana Rehabilitation Programme, ed. Anna Marie A. Karaos, 120-135. Quezon City: Christian Aid, 2012.
Within two years after Tropical Storm Ketsana (local name: Ondoy) brought one of the biggest floods in Metro Manila in recent memory, other big typhoons visited the Philippine archipelago and caused devastation to lives and property. Typhoons Meari (local name: Falcon), Nesat (local name: Pedring), and Washi (local name: Sendong) were notable in the destruction they left behind. The most recent calamity experienced by residents of Metro Manila happened in August 2012 and was brought about not even by a typhoon but by heavy monsoon rains that fell on the western parts of Luzon over several days, severely affecting almost 2 million people. What is also evident is that cities are experiencing more and more the damaging effects of the degradation of surrounding watersheds which has become the biggest threat to the safety of urban settlements. This chapter is a synthesis of the reflections and insights contributed by the implementing partners of the Ketsana Rehabilitation Programme in a workshop held on May 21, 2012.