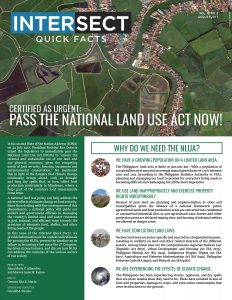 In his second State of the Nation Address (SONA) on 24 July 2017, President Rodrigo Roa Duterte urged the legislators to immediately pass the National Land Use Act (NLUA) to "ensure the rational and sustainable use of our land and our physical resources, given the competing needs of food security, housing, businesses and environmental conservation." He mentioned this in light of the dangers that climate change continually brings about, such as drought and long dry spells that, in turn, affect food production particularly in Mindanao, where a huge part of the country's food requirements come from.
A national land use policy can help address the adverse effects of climate change on food security. More than dealing with the consequences of this phenomenon, a national policy will guide our leaders and government officials in managing the country's limited land and water resources in just, rational, and efficient ways towards the provision of adequate food, shelter, and other living needs of the people.
In this issue of the Intersect Quick Facts, we provide information on the context and rationale for passing the NLUA, present the timeline on its failure in becoming a law since the 9th Congress, lay down its key features, and discuss how NLUA can address the concerns of the various sectors of our society.
Click the image to download.